Because of its durability and aesthetic appeal, epoxy flooring is a popular choice for residential and commercial spaces.
It's a type of floor coating applied over concrete floors to provide a high-performance, smooth, durable surface that can last many years and withstand heavy loads.
Epoxy floors are known for their easy maintenance and resistance to stains, chemicals, cracks, and moisture.
Understanding Epoxy Flooring
Epoxy flooring is made from resins and hardeners that react chemically to form a rigid plastic material.
This material is strong, resistant to degradation, and bonds exceptionally well to its substrate.
Epoxy floors are known for their high strength and protect the underlying concrete from dampness, grease, and cracks.
The process of installing epoxy flooring involves several steps. First, the concrete surface must be thoroughly cleaned and prepared.
This often involves repairing any cracks or damage to the concrete, followed by acid washing to ensure the surface is clean and ready for the epoxy coating.
After preparing the surface, we apply the coating, which must cure for a specified period before it becomes safe to walk on or expose to heat.
Epoxy flooring is not only durable but also customizable. You can create a unique look that matches your style or brand with various colors and decorative options.
From metallic epoxy that mimics the look of marble to flake systems that provide a textured finish, epoxy flooring has endless possibilities.
Different Types of Epoxy Flooring Systems
Several epoxy flooring systems are available, each with benefits and considerations.
▪️ Water-Based Epoxy
This type of epoxy is easy to apply and has lower volatile organic compounds (VOCs) than other types.
It's often used as a primer or sealer on concrete floors because of its thin consistency.
However, it may not be as durable as other types of epoxy.
▪️ Solvent-Based Epoxy
Solvent-based epoxies are more robust than water-based systems and offer better adhesion.
They're resistant to humidity and provide a glossy finish.
However, they contain higher levels of VOCs and require adequate ventilation during the application.
▪️ Metallic Epoxy
Metallic epoxy flooring systems use metallic pigments mixed into the epoxy resin to create a shiny, reflective surface.
This type of epoxy can mimic the look of marble or other natural stone.
It's often used in showrooms, retail spaces, and residential homes for its unique aesthetic appeal.
Epoxy Flooring Cost
The cost of epoxy flooring can vary depending on several factors.
These include the type of epoxy used, the condition of the concrete surface, the size of the area to be covered (square footage), and whether additional services are required, such as repairing cracks in the concrete or applying a top coat for extra protection.
On average, epoxy flooring cost ranges from $3 to $12 per square foot. This includes both the cost of the materials and professional installation.
Keep in mind that this is just an average range. The actual cost can be higher or lower depending on your specific situation.
Preparing Concrete for Epoxy Coating
Proper preparation of your concrete floors is crucial for a successful epoxy application.
The concrete surface must be clean, dry, and free of previous coatings or sealants.
We repair any cracks or damage to the concrete before we apply the epoxy.
Cleaning concrete often involves acid washing using muriatic acid, followed by pressure washing to remove any remaining dirt and debris.
Ensuring adequate ventilation during this process is vital because of the fumes the acid produces.
But don't worry because we handle the entire preparation process and beyond.
The Epoxy Application Process
Applying epoxy coating to your floors is a multi-step process that requires careful planning and execution.
Here's a general overview of what this process entails:
Preparation: This involves cleaning and repairing the concrete, as described above.
Primer Application: A primer is applied to the concrete to help the epoxy adhere better.
First Coat: We apply the first coat of epoxy using a roller or sprayer. This coat should dry for at least 24 hours before proceeding.
Second Coat: A second coat of epoxy is applied for added durability and a seamless finish.
Top Coat: A top coat is applied for extra protection and gives the floor a glossy finish.
Caring for Your Epoxy Floors
Epoxy floors are known for their low maintenance. Regular sweeping and mopping are usually sufficient to keep them looking their best.
For stubborn stains, a mild detergent can be used.
Despite their durability, epoxy floors aren't indestructible. Harsh substances, heavy impact, or extreme temperatures can still damage them.
Therefore, it's essential to take care when moving heavy objects across your floor and clean up any spills as soon as possible.
Unraveling the Benefits of Epoxy
Epoxy flooring has become a popular choice for modern spaces, and for good reason.
This type of flooring is more than just visually appealing; it offers several practical benefits that make it a standout choice for various settings.
▪️ High Traffic, High Durability
Areas with heavy footfall find a reliable companion in epoxy flooring.
It's a durable floor that can withstand the test of high-traffic areas, including garages and commercial spaces.
It's the perfect choice for garage floors, given its resiliency to oil drips, tire marks, and other substances that commonly stain and damage concrete floors.
▪️ Application
Applying epoxy is a straightforward process that can be done in a few steps.
The first step is to prepare the entire floor by removing anything that might interfere with the bonding of the epoxy, like materials, debris, or dust.
A solvent-based acid wash or pressure washer can be used for new concrete. For existing floors, muriatic acid or power washing can be used.
After it's dried completely, the first coat of epoxy paint is applied.
Once the first coat is dry, we can add a second coat to create additional protection.
Water-based epoxy and polyurethane are common materials used to protect epoxy floors.
▪️ Moisture and Chemical Resistance
Epoxy flooring is inherently resistant to moisture and chemicals, making it perfect for rooms like basements, garages, and commercial kitchens where spills are inevitable.
This type of flooring can also help protect walls from any potential water damage from a leak in the room.
Epoxy vs. Floor Paint
While epoxy and floor paint can cover concrete, they are different.
Floor paint is a latex acrylic product that might have a small amount of epoxy to increase the hardness and durability.
However, it doesn't provide the same level of protection and resilience as an epoxy coating.
Epoxy paint, on the other hand, is more resistant to chemicals and traffic.
Epoxy Coatings for Garage Floors
Garage floors are often subjected to heavy use and abuse.
From hot tires and chemical spills to moisture and dirt, your garage floor needs a durable coating to withstand these conditions.
This is where epoxy comes in. They provide a high-performance surface resistant to impacts, chipping, chemicals, and surface abrasion.
Epoxy coatings for garage floors are an excellent choice for a durable, long-lasting solution.
Garage floors are often exposed to heavy use, so they need a coating that can withstand the wear and tear of everyday use.
Epoxy floors are popular because they provide a high-performance surface resistant to impacts, chipping, and surface abrasion.
The cost of applying epoxy to a garage floor will vary based on the project size. On average, you can expect to pay between $3-$7 per square foot for an epoxy floor.
The exact price will depend on factors such as the condition of the existing garage floor, the room's size, and any additional preparation work required before applying the epoxy.
Before applying epoxy to your floor, it is essential to cleanse the surface.
This may involve using a power washer to remove any dirt, oil, or debris that may be present.
Once the surface is clean, you can apply the epoxy in a DIY project, creating a durable and long-lasting finish.
We often use polyurethane as a sealant on epoxy-coated floors to provide an extra layer of protection.
This can help prevent scratches, scuffs, and other surface damage to your garage floor.
Painting and sealing your garage floor with epoxy is an excellent way to create a polished, durable, long-lasting floor that will withstand heavy use and abuse.
The Role of Volatile Organic Compounds (VOCs) in Epoxy Flooring
Volatile Organic Compounds (VOCs) are carbon-based chemicals that quickly evaporate at room temperature.
Some types of epoxy contain high levels of VOCs, which can harm the environment and human health.
However, there are low-VOC and VOC-free epoxy coatings available in the market that are more environmentally friendly.
The Importance of Properly Installed Epoxy Floors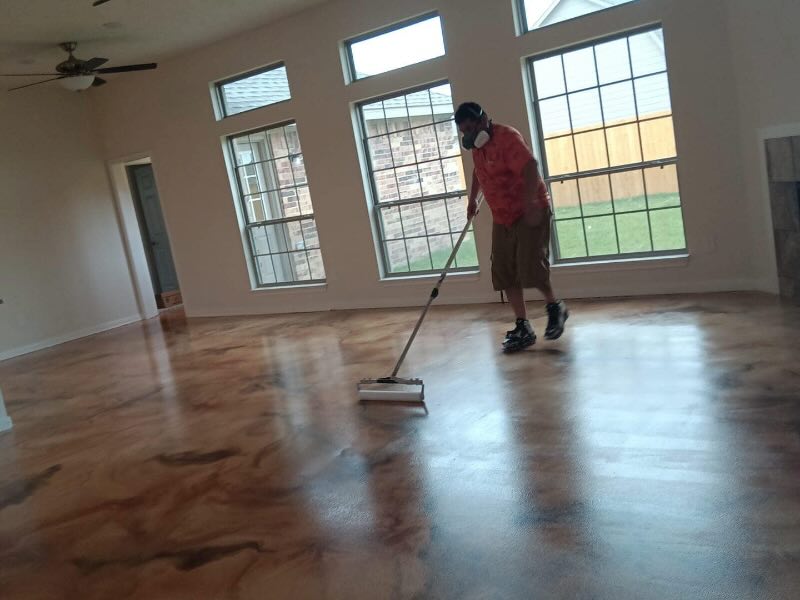 It must be properly installed for your epoxy floor to function as expected.
This involves preparing the concrete, applying the epoxy coating, and allowing it to cure correctly.
A poorly installed epoxy floor may peel or crack, leading to costly repairs.
Frequently Asked Questions
As you consider installing epoxy flooring, you may have questions about the installation process, maintenance, and long-term durability.
To help answer these common questions, we've compiled a list of FAQs.
Learn more about this innovative flooring solution and how it can benefit your home or business.
What's the cost of epoxy flooring?
Estimating the cost involves factors like square footage and the type of epoxy. To demystify the numbers, consult with our flooring experts at Xpedite Coatings.
Epoxy application: DIY or professional?
While some epoxy applications suit DIY enthusiasts, achieving professional results often demands expertise. For optimal outcomes, consider our professional installation.
How long does epoxy application take?
The meticulous installation may take several days, including surface preparation and curing. Patience is vital to achieving a flawless, enduring finish.
How often does epoxy flooring need to be re-applied?
Adequately maintained floors can last many years without reapplication. And when it's time for a refresh, Xpedite Coatings has you covered with our comprehensive services. Reach out today to learn more.
Can epoxy flooring be used in wet/humid areas like Houston?
Yes, epoxy can be applied to floors exposed to moisture, but there are specific considerations for safety and strength.
At Xpedite Coatings, we evaluate each situation carefully before proceeding with service. Contact us for a free consultation.
What colors of epoxy flooring are available?
We offer a wide range of colors and effects that can enhance the aesthetic of any space with epoxy flooring.
We have specialized finishes such as chip fleck, marble-look, metallic, and more.
Do I need to do anything special before having epoxy flooring installed?
Preparation is critical to a successful flooring project.
Depending on the substrate and existing condition, we may need to grind or level the surface before applying epoxy sealant.
We'll also check for any cracks or damage that should be addressed first.
Epoxy Floor Conclusion
Epoxy flooring is a durable and attractive option for residential, commercial, and industrial settings.
With various types available—self-leveling and quartz-filled to anti-slip—there's an epoxy flooring system for every need.
Whether you are looking for a flooring solution for your garage or a commercial space, epoxy offers many benefits, including lastingness, chemical resistance, and aesthetic appeal.
With over 15 years of experience installing more than 3.5 million square feet of epoxy throughout the Greater Houston area, we have mastered the process to ensure you receive a high-quality epoxy flooring system that will last for years.
Our commitment to quality begins with our proven floor prep process, state-of-the-art epoxy resins and topcoats, and highly skilled technicians who get the work done right.
Don't risk costly repairs and redos with inferior epoxy floor coatings. Contact us today for a quote, and start enjoying your beautiful new floor tomorrow!
Visit our website for more information and some of our successful projects.