There are loads of stamped concrete patterns available for you to choose from.
However, much more goes into creating stamped concrete than simply choosing stamped concrete patterns.
In this blog post, we'll delve into the fascinating world of stamped concrete, explore popular patterns, and discuss why it's becoming a significant trend in Houston for 2023.
The Art of Stamped Concrete
Stamped concrete, imprinted or textured concrete, replicates flagstone, tile, brick, and even wood.
It's a cost-effective way to add a decorative touch to a hardscape.
The installation involves pouring slab concrete with patterns or textures applied to it.
It can be used for patios, driveways, sidewalks, and more.
The versatility of stamped concrete is one of its main attractions.
Popular Decorative Concrete Patterns
The most popular stamped concrete patterns include Ashlar Slate, which goes with just about everything.
Other popular designs mimic the look of brick, cobblestone, wood, and various stone patterns.
Our decorative concrete designs offer elegance and a dash of practicality.
With an extensive range of options, you can create a unique aesthetic that perfectly complements your property.
▪️ Ashlar Slate
The classic Ashlar pattern is a favorite among homeowners and businesses alike.
The design is versatile, fitting seamlessly with both modern and traditional styles.
Its symmetrical layout adds a sense of order and neatness to any space.
▪️ Brick
Brick patterns offer a timeless appeal.
They add a rustic charm and warmth to the surroundings.
You can choose from various brick patterns, from the traditional running bond to the more intricate herringbone or basketweave.
▪️ Cobblestone
Cobblestone designs are reminiscent of old-world Europe and bring a sense of history and character.
This pattern is perfect for adding a touch of elegance to your driveways, walkways, or patios.
▪️ Wood
Wood patterns in stamped concrete offer the beautiful look of natural wood without maintenance.
This design is ideal for those who love the look of wooden decks but want something more durable and weather-resistant.
▪️ Stone Patterns
Stone patterns can range from flagstone to river rock designs and everything in between.
These patterns can add a natural and earthy feel to your outdoor living spaces.
Our decorative concrete designs can transform mundane surfaces into extraordinary ones.
Whether you're looking to revamp your driveway, patio, walkway, or pool deck, our team of professionals will guide you in selecting the perfect pattern that aligns with your preferences and enhances the overall aesthetic of your space.
Why Stamped Concrete is a Trend for 2023 in Houston
Stamped concrete offers several benefits that make it a rising trend.
Not only does it provide aesthetic appeal, but it's also a cost-effective solution compared to other materials.
It requires less maintenance than traditional materials and is highly durable.
As homeowners and businesses look for ways to enhance their outdoor spaces in 2023, stamped concrete offers a versatile and affordable option.
Whether you're looking to renovate your patio, driveway, or commercial space, stamped concrete provides many design possibilities to suit your style.
Join the trend and discover the magic of stamped concrete in Houston!
Choosing and Creating the Color
Most stamped concrete comes in two colors: the base color and the accent color.
The base color is the primary color you will be looking for, and there are two ways to create this base color: integral color and color hardener.
▪️ Integral Color
Integral color is when the color is mixed directly into the concrete. The color will be added at the concrete plant or before pouring.
This is the most common method used to create the base color.
▪️ Color Hardener
A color hardener is an overlay mix that is worked onto the surface of freshly placed concrete with either a float or a trowel.
This results in a colored top surface layer, but the rest of the mix is not colored, unlike when integral colors are utilized.
Color hardener tends to produce a more intense color, but it is less wear-resistant and not as strong as integral colors.
Ensure you know what your concrete is using before the concrete is poured.
If your driveway, patio, or flooring will be seeing a lot of hard use, the last thing you want is to have your color wear out quickly.
The Stamping Process
Once you choose the base color, a release agent is applied. This prevents the stamp from sticking during the stamping installation.
It also creates an accent color, appearing once the application is completed.
When choosing this accent color, ensure it works well with your base color.
Usually, the best option is a darker release and accent color instead of a lighter base color.
Once the release agent is applied, the stamping work begins.
The stamping tools are tamped into the concrete surface, creating the stamped concrete patterns you have chosen for your surface.
After this happens, the concrete must be sealed.
There are several sealing options available, each of which comes with its advantages and disadvantages.
Discuss this with your contractor to decide what is best for your needs.
When applying a sealer, some recommendations are to use a non-slip additive or a non-slip wax on floors, driveways, and other ground surfaces so you don't have to worry about injury.
The final colors will appear once the concrete is sealed and cured. This is the color that will be permanent.
However, the color can be affected and damaged over time.
For example, the color of stained concrete may dull if you do not maintain and reseal your concrete on time.
Make sure to talk to your contractor about maintaining your concrete to keep the color as vivid as possible for as long as possible.
Why Choose Decorative Concrete for Pool Decks?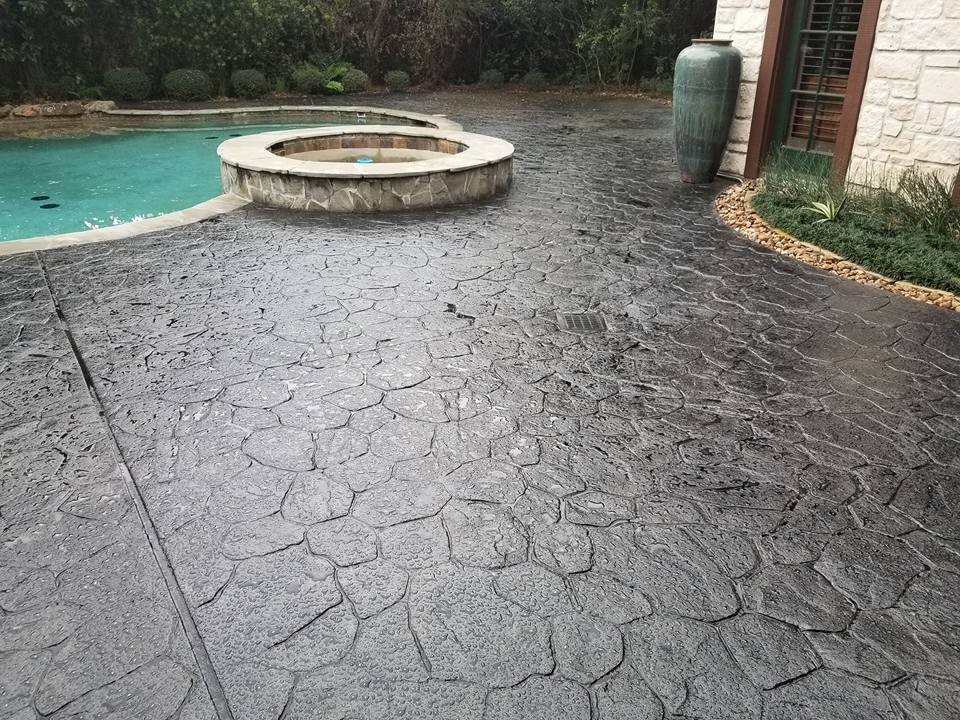 Decorative concrete, particularly stamped concrete, is a cost-effective and versatile material that can transform your existing patio or pool deck into an elegant outdoor experience.
It can mimic materials like brick and stone, providing a high-end look without the associated cost and maintenance.
With our hand staining technique, we can add a touch of color to your new concrete pool deck, enhancing its aesthetic appeal and blending it seamlessly with your backyard landscape.
Whether you're looking for a simple concrete overlay or a complete concrete resurfacing project, our concrete experts are ready to bring your idea to life.
Our Stamped Concrete Services in Houston
Our concrete services extend beyond pool decks.
We also have concrete contractors who specialize in stamped concrete driveways and concrete patios, offering a variety of designs and textures to suit your property's style.
Besides, we provide concrete repair services to restore the beauty and functionality of your outdoor spaces.
We guarantee excellent service and quality workmanship regardless of the job or project size.
Get a Free Estimate
Interested in exploring the potential of decorative concrete for your pool deck or outdoor kitchen?
Call us today for a free estimate.
As a top company and great communicator, we'll walk you through the project, discuss your options, and provide a detailed quote.
From creating fire pit areas to installing decorative walkways, we aim to deliver an outstanding outdoor experience for our residential and commercial customers in Houston, TX.
Choose us for your next stamped concrete overlay project and enjoy stamped concrete's beauty, durability, and affordability.
Final Thoughts About Stamped Concrete Installation
With stamped concrete, there are several things to discuss with your contractor aside from choosing your favorite stamped concrete patterns.
If you have any questions regarding stamped concrete or want to start creating a stamped concrete process, contact Xpedite Coatings at (713)365-0444 today.
We're happy to answer any questions that you might have.