Epoxy coatings have become popular because they offer various design and color options.
With an epoxy coating, you can customize your flooring in unlimited ways, allowing you to create a truly unified design scheme.
However, choosing a color and design can be confusing and difficult because of the many options available.
Here are a few fun options you should consider when selecting your epoxy coating to help you choose.
Glitter Floors
Flaked epoxy coatings can create a subtle glitter effect on your floors.
These very reflective floors allow you to brighten up any space, while the glitter also helps hide any blemishes that your floor may have.
An added advantage is that these are among the most affordable "effects" you can opt for with an epoxy coating.
Metallic Floors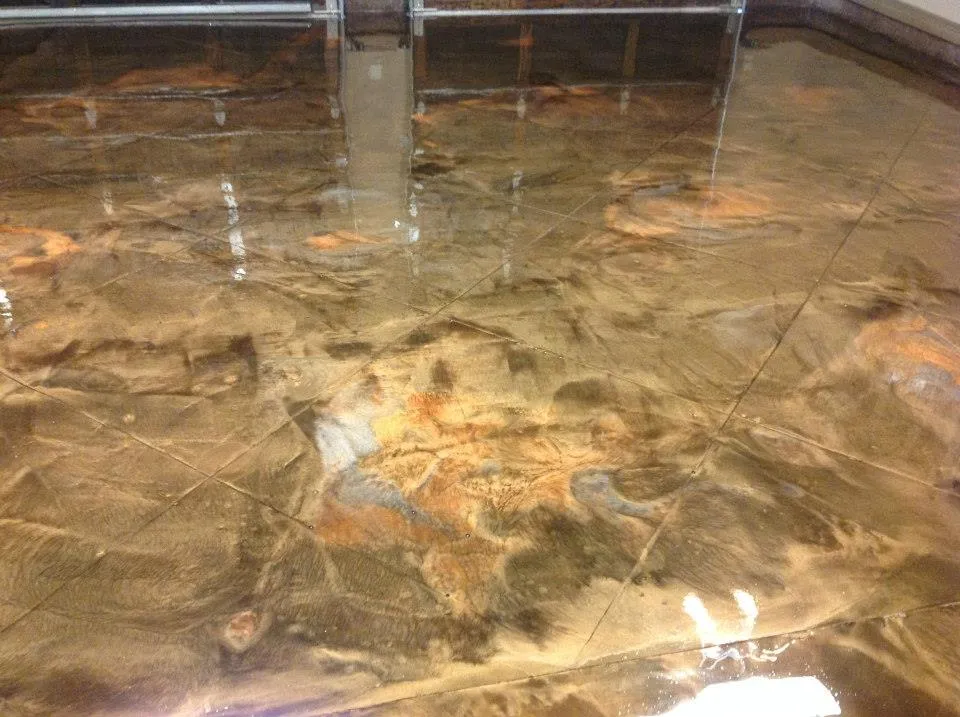 Metallic floors provide a flowing, marbled look with iridescent accents that create a stunning visual effect.
They're an excellent option for high-traffic areas because they create a pleasing look and offer an affordable marble alternative.
To avoid vulnerability to UV damage, experts recommend against creating a metallic effect on outdoor flooring using epoxy coating.
3D Floors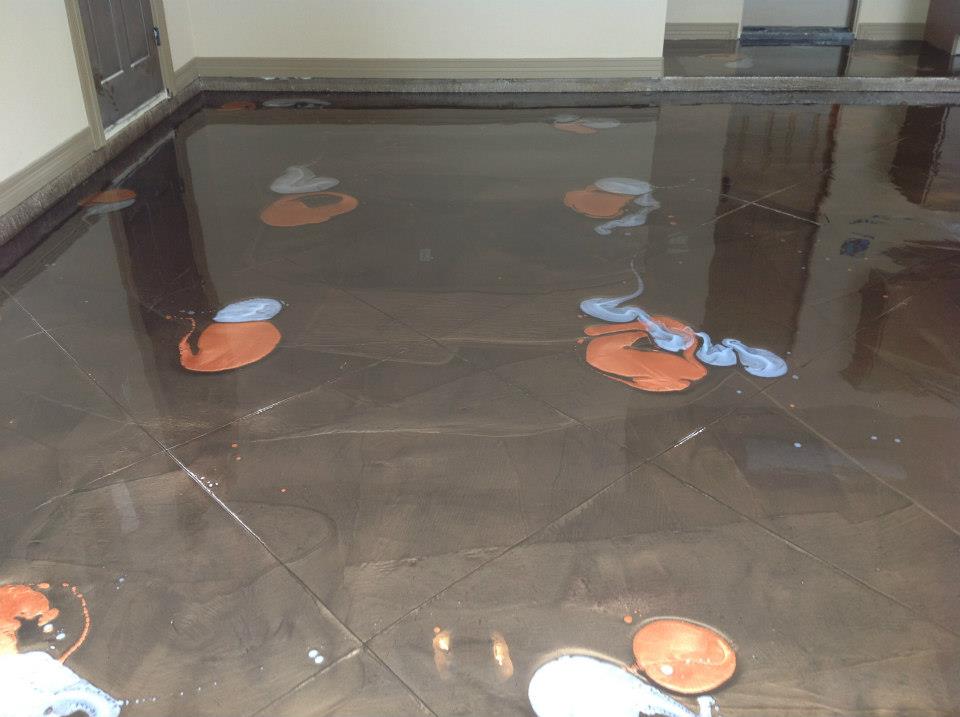 A new trend with epoxy floors involves printing a 3D image on the concrete flooring's surface and finishing the floor with an epoxy coating.
These images provide a fun and exciting twist to flooring design and allow you to experiment with themes that reflect your personality.
We recommend 3D images in smaller areas so the effect does not get too overwhelming.
Terrazzo-Style Floors
Terrazzo-style epoxy floors are a creative alternative that combines multi-colored aggregate fragments within the coating to create a unique, mosaic-like effect. 
Customizable color combinations can create a vibrant, fun aesthetic or a more subtle, elegant appearance according to your preference. 
This style is especially suitable for large, open spaces, as it helps add visual interest and diversity. 
Terrazzo-style epoxy flooring is visually appealing, durable, easy to clean, and resistant to wear and tear.
Quartz-Infused Floors
Quartz-infused epoxy floors offer a striking, high-gloss look combined with exceptional durability. 
We combine tiny fragments of quartz crystals with the epoxy coating, contributing an attractive sparkle and additional hardness to the finished surface. 
This type of flooring is ideal for areas subjected to heavy traffic and rigorous use, as it's stunning and exceptionally resilient to damage and wear. 
Quartz-infused floors are available in a wide range of colors, allowing you to choose the one that best fits your interior design.
Abstract Pattern Floors
For those seeking a truly one-of-a-kind, artistic touch for their floors, abstract pattern epoxy coatings are an exciting choice. 
They allow you to incorporate various colors and patterns, creating a unique look that defies all norms. 
Depending on your preference, this can range from geometric designs to swirling color combinations. 
The beauty of abstract pattern floors is that no two designs are ever the same, providing a unique and custom look. 
However, this option may require a skilled professional to bring your vision to life.
Textured Floors
Textured epoxy floors are a fantastic option for those desiring visual appeal and practicality. 
These floors possess a level of texture added to the surface, providing additional grip and making them an excellent choice for areas prone to moisture or spills. 
In many designs and colors, textured epoxy floors add an extra dimension to your space while increasing safety by reducing the risk of slips and falls. 
These floors are resilient and easy to maintain, offering a long-lasting, attractive solution for your flooring needs.
Final Thoughts About Epoxy Coating Design Options
Epoxy coatings provide various unique and customizable options to help you create the perfect flooring for your space. 
Whether you're drawn to the sparkle of glitter, the durability of quartz, or the unique touch of abstract patterns, there's an epoxy coating for you. 
Remember, your floor is the base of your interior design, so dare to be creative and make a statement with your choices. 
Ready to transform your space with the magic of epoxy coatings? 
Don't hesitate! Contact Xpedite Coatings at (713) 365-0444, and let us help you bring your dream floor to life.