Concrete stain vs. paint is a common flooring choice across residential and commercial spaces.
Each offers a different result, and understanding the difference is vital before deciding which type of concrete flooring to use.
In this blog post, we delve into the pros and cons of concrete stain versus paint, providing you with all the information you need to make an informed decision for your next flooring project.
Concrete Paint
Concrete paint is available in both oil-based and water-based solutions applied in layers to create bold, opaque colors.
Concrete paints cover entirely and protect the surface of your flooring.
However, these paints do not penetrate the concrete's surface, only forming a thin film on the top surface.
As a result, extended exposure to weather conditions like heat, water, and other elements can result in the paint's cracking, flaking, and peeling.
Deciding between using concrete stain and paint can be challenging when improving the look of your concrete surfaces, whether a concrete patio or a concrete floor.
Both options offer a fresh coat and a new look, but they come with their own set of pros and cons.
In this section, we'll focus on the advantages and disadvantages of painting a concrete patio to help you make an informed decision.
Pros of Concrete Paint

▪️ Wide Range of Colors
One of the significant advantages of painting concrete is the broad range of colors available.
Unlike concrete stains, which offer a more limited palette and a translucent appearance, paints designed for masonry and concrete surfaces provide opaque coverage in virtually any color you choose.
▪️ Covers Imperfections
Painting concrete is an excellent option if you're trying to cover cracks or other surface imperfections.
The thick paint coating can hide minor flaws and give your concrete flooring or patio a smooth, uniform look.
▪️ UV Stable
Most concrete paints are UV stable, meaning they resist fading when exposed to sunlight.
For example, concrete pavers, such as pool decks and patios, are an excellent option for outdoor projects.
Using Paint on Concrete Disadvantages

▪️ Surface Prep Work
You must undertake thorough prep work before applying paint to a concrete surface.
To prepare, you may need to clean the surface, fix any cracks, and use a primer.
The application can be time-consuming, but the paint must adhere adequately.
▪️ Risk of Peeling and Chipping
Unlike stains that penetrate the surface of the concrete, paint forms a layer on top of the concrete.
Over time, this coating may peel or chip, especially in high-traffic areas.
Painted concrete may require more frequent touch-ups compared to stained concrete.
▪️ Potential for Slippery Surface
Paint can create a slippery surface, particularly when wet.
Concrete patios, walkways, or pool areas may cause concern.
Some types of paint offer a textured version to mitigate this risk, but it's still something to consider.
Concrete Stain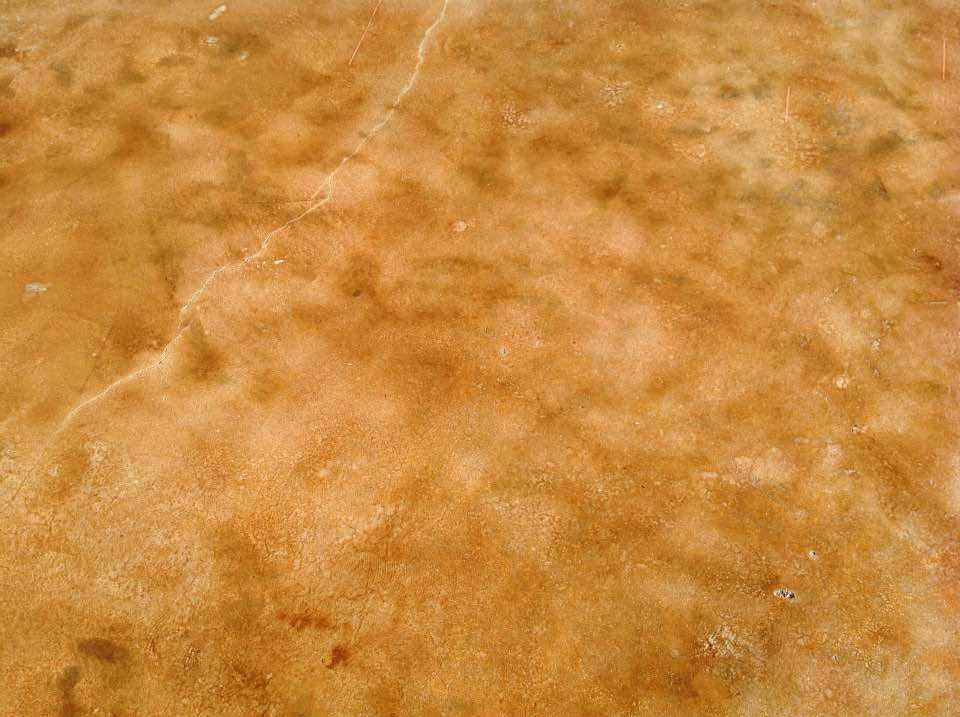 Like concrete paint, concrete stain is available in water- and acid-based varieties.
These solutions are thinner than paint, and the effect varies depending on the type of stain you use.
Please note that concrete stains cannot hide blemishes and other existing damage to the concrete.
▪️ Acid Stains
Acid-based stains penetrate the concrete and dry to create a semi-translucent color.
Using these stains, you can also create various effects, including allowing the surface to mimic natural stone.
However, they are only available in a limited variety of colors and are more complicated to apply.
▪️ Water-based Stains
Water-based stains are easy to apply and can be directly applied once you have cleaned the concrete surface.
They dry to form a uniform, semi-opaque color.
However, they do not offer the opportunity for effects.
Furthermore, more than one layer is needed to deepen the color.
Pros of Concrete Stain
▪️ Penetrating Properties
One of the key benefits of choosing to stain concrete is that the stain penetrates the surface.
Unlike paint, which sits on the surface, a stain permeates the concrete.
As a result, it has a decreased likelihood of peeling or chipping, rendering it a durable choice for heavily frequented spaces such as walkways and floors.
▪️ UV Stable
Most stains, especially acid-based ones, are UV stable.
This attribute ensures they resist fading under direct sunlight, making them ideal for outdoor applications like patios and sidewalks.
The UV stability safeguards against fading and extends the vibrancy of your stained concrete patio, ensuring its timeless allure endures for an extended period.
▪️ Unique Decorative Touch
Stained concrete offers a unique decorative touch.
Because the stain interacts with the concrete's natural variations, no two stained concrete floors or patios will look exactly alike.
Cons of Concrete Stain
▪️ Limited Color Options
While concrete stains can offer a beautiful, translucent finish, they have more limited color options than latex.
If you're looking for a specific color or want a more vibrant hue, you might be better off choosing paint over stain.
▪️ Application Process
Applying a concrete stain, particularly an acid stain, can be more complex and time-consuming than simply painting the surface.
A curing process may be necessary to remove the stain, and in certain situations, a substance such as muriatic acid may neutralize the stain. 
▪️ Maintenance
Although a stain penetrates the concrete and is more durable than paint, stained concrete may still require a new coat over time to maintain its appearance.
The frequency of this maintenance will depend on factors like the amount of foot traffic the area receives and exposure to chemicals or harsh weather.
Is Paint or Stain Best For A Concrete Patio?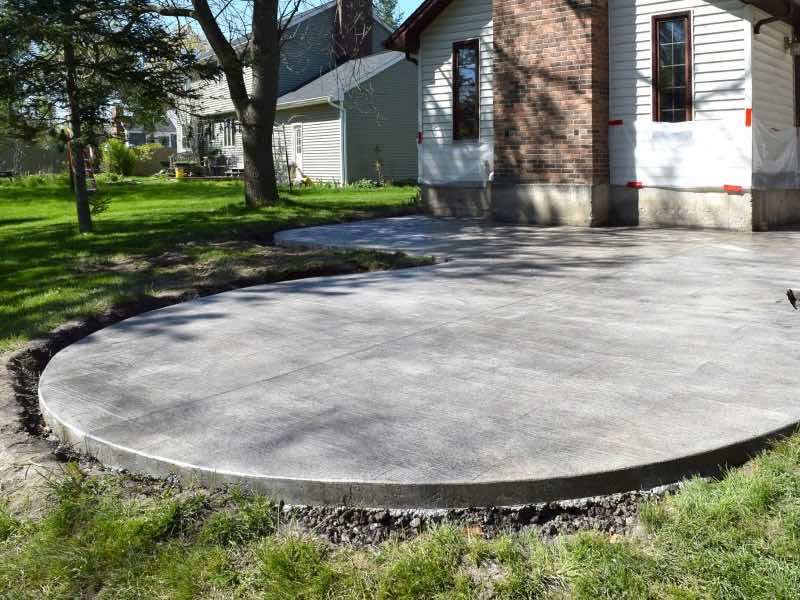 For most exterior applications, including a concrete patio, stain is superior to paint.
Stains penetrate the porous surface of the concrete, providing a more permanent and untouched coating.
Their durability makes acid-based stains a popular choice for outdoor applications.
However, choosing between paint and a concrete stain vs. paint can also be a personal preference.
Staining might be the better choice if you desire a more customized finish.
Epoxy coatings could be a viable alternative to paint, offering almost as many color options.
While paint might peel or flake over time, stain provides better wear and damage resistance.
So, the stain could be the better option if longevity is a concern.
Ultimately, it's essential to consider your concrete patio's specific needs and conditions before deciding.
Concrete Stain vs. Paint Conclusion
Once you understand the difference between concrete stain and paint, you can decide which option is better.
However, regardless of your choice, it is always best to hire an experienced epoxy flooring expert like Xpedite Coatings to apply them.
A professional team caring for your concrete floors will ensure a neat, uniform look and proper application to get the greatest lifespan possible from your concrete floor.
Call (713) 365-0444 for a quick quote. We are happy to show you our extensive samples so you can make the best choice for your needs.