Epoxy Floors in Songwood Done Right
✅ Breathtaking Epoxy Garage Flooring
✅ Odorless and Safe
✅ Flakes & Chips
✅ Residential & Commercial
Xpediate Coatings epoxy floors are a durable and resilient flooring option that can be used in home and commercial settings. The application we use is scratch and abrasion-resistant with an anti-slid feature.
3 Kinds of Epoxy
There are three types of epoxies used for floors.
A solvent base

A water base

100% solid epoxy
When searching for an epoxy flooring company, ensure you are aware if they use solvent or water-based epoxy so you can avoid it. Instead, you want the installer to use 100% solid epoxy, an industrial-grade application that creates the best finish because it is a thicker and more durable product.
At Expedite Coatings, we only use 100% solid epoxy. The advantage of solid epoxy is that it will not diminish like a solvent or water-based epoxy but gives you a denser, long-lasting coat. It also has no toxic fumes or odors, making it safe to use in your house or office.
TWhat'se moun of coverage I essential to all of this, meaning how concentrated a coat is applied. Epoxy applied thinly won't endure and will flake off. This is why we use epoxy at 120 sq. ft. per gallon. This means you receive a much more solid coating and finer finished floor.
Our Epoxy Garage Floor Process
We use a 2-day procedure to install your epoxy garage flooring properly.
Day One of Epoxy Floor Installation
On day one of the epoxy flooring systems, we begin with floor preparation. This is an essential part of the entire system. We use a unique grinder that is fitted with a vacuum adapter. The grinder has a diamond head that grinds the floor to open the concrete's pores. This process makes sure the epoxy penetrates deeply into the concrete. We also repair any cracks or holes the floor may have with a special epoxy paste.
After we get your floor ready and apply the 100% epoxy coating, we add the chips and flakes to help hide imperfections the concrete may have. The flakes and chips also make the floor resistant to scratches and nonslip.
Day Two of Epoxy Flooring Installation
We return the next day to apply a light polyurethane coating that is stain-resistant to defend your floor further.
After 24 hours, once the floor has cured, you can walk on it and begin using it as you would any other floor.
How Much Does Epoxy Flooring Cost?
The procedure described above for garage floors will deliver you with the premier floor and is backed by a full 15-year warranty. The cost of this procedure is approximately $3.50 per square foot. Please get in touch with us at (713) 365-0444 to inquire about current prices.
Concrete Floor Coatings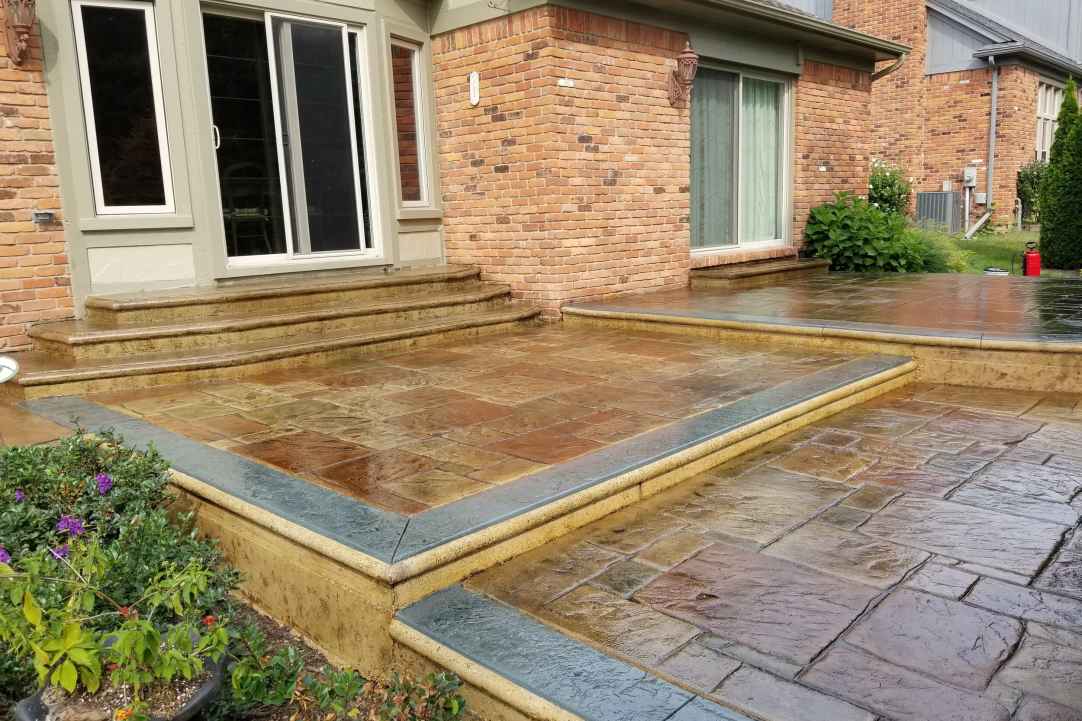 In addition to our homeowners' epoxy garage floor services, we provide a full line of concrete floor coatings for both industrial and commercial buildings. Our epoxy products protect your floors from wear and tear while providing a slip-resistant surface that is straightforward to clean and maintain. In addition, we offer an assortment of finishes and colors to select from, so you can design the desired appearance for your company.
Commercial Kitchen Floor Coatings
Commercial kitchens are subject to a lot of deterioration. Between the high temperature of ovens and stoves and the steady foot traffic of chefs and servers, commercial kitchen floors take a beating. That's why choosing a floor coating that is durable and easy to clean is crucial. 
At Xpediate Coatings, we provide a variety of commercial kitchen floor coatings. Our coatings tolerate extreme heat and heavy foot traffic. And we can modify them to match your brand identity. 
Whether you need a slip-resistant finish or an antibacterial surface, we can install a coating that satisfies your needs. So if you're in the market for an improved coating, call (713) 356-0444. We are happy to assist you in finding the perfect solution for your commercial kitchen.
Industrial Epoxy Floor Coatings
Industrial epoxy floor coatings from Xpediate Coatings are the perfect solution for facilities requiring a risk-free, strong, long-lasting, maintenance-free floor coating. In addition, our industrial epoxy floor coatings tolerate tremendous wear and traffic, making them suitable for factories, warehouses, and other industrial environments.
In addition, our epoxy floor coatings are available in different colors and finish to suit your specified needs. And because we use only the best materials and state-of-the-art equipment, your industrial epoxy flooring coating will last a lifetime.
Exterior Waterproofing Systems
Our exterior waterproofing systems are the perfect solution if you're looking for a way to waterproof your outdoor concrete surfaces. Our products withstand the elements that maintain your concrete surfaces looking new for years to come.
We provide a selection of colors and finishes to select from, so you can design a look unique to your Songwood home or business. And because we apply our coatings in a single layer, they're much easier and quicker to install than other concrete applications.
Stamped and Stained Concrete
Stamped and stained concrete is an impressive way to add beauty and depth to your concrete surfaces. We provide a variety of patterns, finishes, and colors to choose from, so you can create a distinctive look for your home or business.
Our stamped and stained concrete services are excellent for patios, driveways, walkways, pool decks, and more. We use high-quality materials and the latest techniques to ensure your concrete surfaces are exquisite and lasting.
Whether you're looking for a subtle change or a dramatic transformation, our team can help you achieve the look you're after. Contact us at (713) 356-0444 to learn more about our stamped and stained concrete services.
Benefits of Epoxy Floors
Epoxy floors are an excellent investment for any business or home. Below are several of several advantages they offer:
Durability: Epoxy flooring is highly durable and can last for many years.

Easy to maintain: Epoxy floors are straightforward to clean and maintain, resisting stains and spills.

Anti-slip: Epoxy floors are slip-resistant, making them a secure option for homes with small children or businesses that receive a lot of foot traffic.
Personalized: We

customize epoxy flooring to match your desired feel and look.

Affordable: Epoxy floors are a cost-effective way to spruce up your home or business.
About Xpediate Coatings
Xpediate Coatings is a family-owned company serving the Songwood area for years. We provide an assortment of concrete floor coatings and services, including epoxy floors, stained and stamped concrete, exterior waterproofing systems, and commercial kitchen floor coatings.
We are committed to providing our clients with the top-quality services and products possible. Our company cares about what we do, and we take great pride in our work. We are always happy to answer questions you may have about our services or products. Reach out to us today at (713) 356-0444 to learn more about what we can do for you.