Investing in superior epoxy flooring is the answer if you're in charge of a commercial kitchen and are looking for the most effective way to ensure maximum durability and safety.
With its strength and longevity, epoxy commercial flooring will offer unbeatable protection that can withstand all the daily hustle and bustle of kitchen life, from spills to heavy foot traffic, while maintaining a safe and welcoming environment.
Our comprehensive guide provides all the tips and techniques you need to get the most out of epoxy floors for your restaurant kitchen.
What Is Commercial Kitchen Flooring?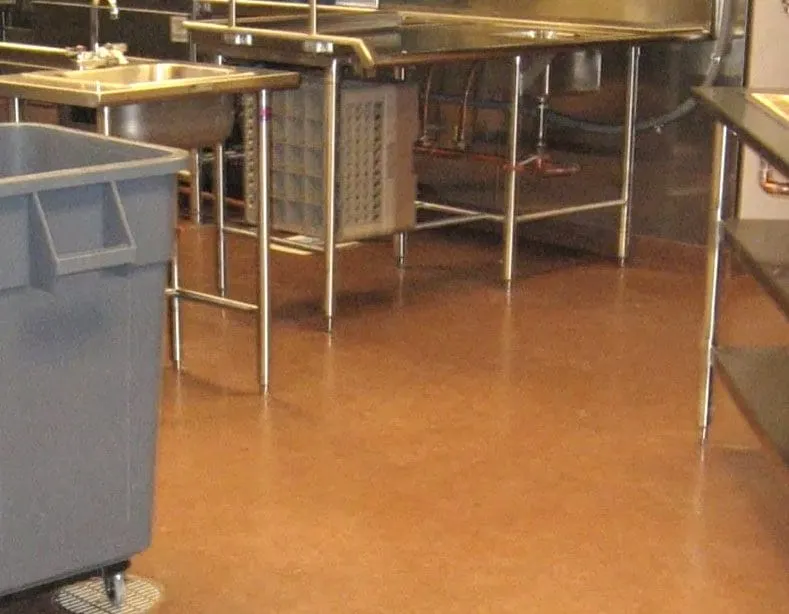 Commercial kitchen flooring is a specialty type of floor covering designed to provide protection and safety for commercial kitchens.
It comprises slip-resistant and durable materials and can withstand heavy foot traffic and spills.
Examples of common materials used for commercial kitchen floors include specially formulated epoxy coatings.
Epoxy floor coatings are made from a two-part system consisting of an epoxy resin and a catalyst, creating an extremely hard, tough, and durable surface.
Commercial kitchen floors are crucial for not only durability but also hygiene standards.
Spills are inevitable in busy kitchens, but with the right flooring, you can quickly clean them up without compromising the structural integrity of the underlying surface.
Benefits of Epoxy Flooring for Commercial Kitchen Floors
Installing epoxy on industrial kitchen floors can benefit the business's daily operations from improved safety, slip resistance, seamless finishes for a more attractive look, and ventilation properties for better air quality.
◽️Durable
Epoxy can be used to make concrete surfaces stronger. The scratch-resistant coating protects the flooring from wear and tear, making epoxy one of the best flooring options for restaurant kitchen flooring in busy commercial kitchens, especially when strengthened by adding quartz chips.
◽️Non-porous 
Epoxy flooring is a must-have for an industrial kitchen. Its non-porous nature creates a waterproof, chemical-resistant surface that prevents liquids from seeping into the cracks or underlying floors.
◽️Slip-resistant 
Epoxy floors are slip-resistant, making them an excellent choice for restaurant kitchens where employees spend long hours on their feet.
The slip-resistant coating provides extra grip to prevent slips, trips, and falls.
◽️Easy to clean 
Epoxy is easy to clean and maintain. The coating helps reduce the spread of bacteria and germs, ensuring a safe and sanitary environment for your industrial kitchen flooring surfaces.
◽️Ventilation
An epoxy kitchen floor can also help improve air quality in commercial kitchens. The coating offers ventilation properties that allow for better circulation of fresh air, which can help reduce unpleasant odors and fumes.
◽️Seamless
Epoxy flooring can also be applied seamlessly, making it an ideal choice for commercial kitchens that require a more attractive look by eliminating grout lines.
The seamless finish also helps reduce the spread of contaminants and ensures a safer working environment.
◽️Bright colors
For those seeking a unique, eye-catching addition to their kitchen flooring project, epoxy kitchen floors with bright colors are the perfect solution.
As an array of diverse hues is available, you can create a vibrant space that will be sure to stimulate conversation and make your kitchen more inviting.
◽️Cost-effective
Epoxy is one of the best solutions for cost-effective commercial kitchen floors. The epoxy system comprises two parts, an epoxy resin and a catalyst, which work together to make the surface tough and durable while giving it a polished concrete look.
◽️Low Maintenance
Epoxy flooring is an ideal solution for commercial kitchens because of its easy maintenance and durability. Imagine having a beautiful kitchen floor with an epoxy floor coating that requires no extra work.
No more scrubbing, no more polishing—just a beautiful coating that will last for years and remain as pristine as the day we install it.
◽️Bacteria growth prevention
If you have a commercial kitchen, you know how important it is to produce food in an odor-free and safe environment.
Ensuring your kitchen is free from bacteria growth can be challenging, especially with frequent spills from food processing and grease. The non-porous surfaces repel oils and other liquids, providing a safe and hygienic environment.
Safety Considerations For a Commercial Kitchen Floor
There's no room for cutting corners regarding the safety of a kitchen floor.
With temperatures reaching up to 200°F, blast chillers, and deep fryers, choosing the right flooring is essential for ensuring a safe yet stylish finish.
As epoxy flooring experts, we recommend a chemical-resistant coating to protect the floor from thermal shock.
In addition, high-build epoxy is ideal for ensuring your kitchen can handle heavy machinery and other industrial equipment, as well as the grease and grime that comes with cooking.
A non-slip finish is also crucial for preventing fall accidents in a busy kitchen, even when wet.
With the correct surface preparation and installation, you can create a safe yet attractive finish that stands up to heavy traffic.
Pros and Cons of Different Flooring Systems
There are various options for restaurant managers to choose from for their kitchen flooring systems.
Here we discuss the pros and cons of different flooring so restaurant owners can make an informed decision.
Linoleum has been popular for decades because of its affordability and durability. However, it is not as resistant to chemicals as other floor types.
Linoleum also doesn't offer superior resistance to impact than other surfaces, such as epoxy.
Ceramic tile is known for its elegance, but it isn't easy to clean and can be slick when wet. In addition, the grout between the tiles can become discolored over time and require more regular maintenance.
Ceramic tile requires a cement bed beneath it, which increases installation costs significantly.
Vinyl is relatively easy to install and maintain while still giving your restaurant kitchen a professional look.
Vinyl can also protect against chemical messes but may scuff easily if hit with heavy objects or tools in the kitchen.
Epoxy is one of the most durable materials for your restaurant's flooring system. It is easy to clean and highly resistant to impact and chemicals—perfect for a busy kitchen.
Epoxy also will last much longer than any other restaurant kitchen flooring, making it an excellent investment that will pay off in the long run.
When considering cost-effectiveness, ease of maintenance, safety levels, and overall lifespan, epoxy flooring stands out as one of the best choices for restaurant kitchens.
With its superior resistance against chemicals and impact, you can trust your employees to remain safe while working in your restaurant's kitchen environment with an epoxy coat on your floors.
Why Epoxy is the Right Flooring System for Restaurants
Epoxy flooring is ideal for your commercial kitchen space because it can withstand thermal shock, grease and grime, heavy machinery, and other industrial equipment.
With Xpedite Coatings' expertise in epoxy floors, you can create a safe yet attractive finish that stands up to even the heaviest traffic in your kitchen.
Contact us at (713) 365-0444 to learn more about how we can help turn your restaurant's vision into reality with our reliable epoxy coatings.